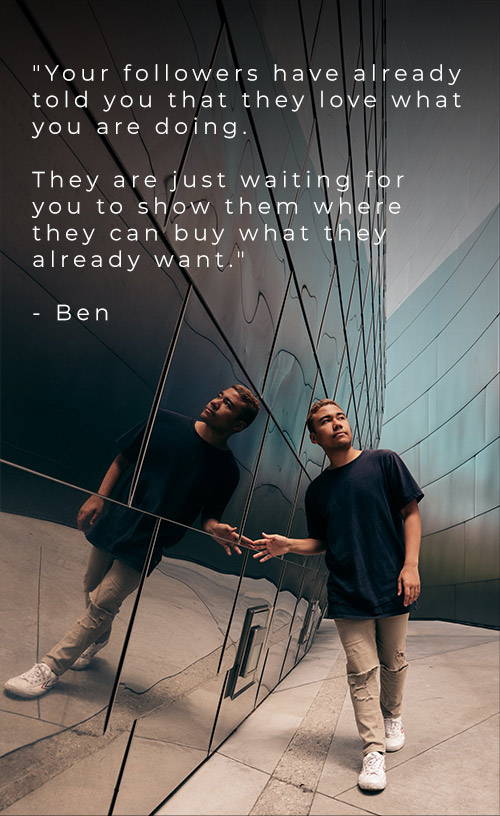 Using his NiceLife POD (Print On Demand) WebShop, Ben is selling his high-quality Art Prints to his 10k followers. They already know him and loves his work.
It's all done on autopilot, and Ben doesn't have to worry about spending money on inventory. He also doesn't waste any time on packaging and shipping as It is all done for him.
All Ben has to do is create his art, show his followers where to buy it, and help them if they have any questions.
Ben has priced his art at $79 for an 18" x 24" print and $99 for a 24" x 36" print.
That gives him an average profit of $58,42 on every sale he makes.
Ben is good at engaging with his followers, and on every post, he makes sure to tell them about his webshop where they can buy his prints.
Even with a minimal marketing effort, he still manages to sell to 0,5% of his followers every month.
That equates to 50 sales a month. With an average profit per sale of $58.42, Ben is earning a total profit of $2,920.78 a month on his print sales.
With the extra money, Ben is earning. He can now focus on the type of photography he loves. He also has time to work on increasing his following and his engagement with them.
He already has a lot of repeat buyers that are starting to collect his prints.
This is Ben's way of shielding his family from the economic uncertainty that is becoming part of our lives in these years.
Disclaimer: Individual results may vary, and testimonials are not claimed to represent typical results. All testimonials are by real people, and may not reflect the typical purchaser's experience, and are not intended to represent or guarantee that anyone will achieve the same or similar results.